DOUGLAS GRAY, B.A., LL.B.
Douglas is a lawyer, consultant, financial columnist and author of 25 best-selling business and personal finance books (see stack of his books below!), published primarily by McGraw-Hill or John Wiley and Sons. He left the practice of law to concentrate on public education in the form of books, articles and public speaking, as well as providing consulting services. Mr. Gray is an internationally recognized expert on a variety of topics, including retirement planning, personal finance, real estate and small business. He has given seminars to over 250,000 people nationally and internationally in his areas of expertise. In addition, some of his books have been translated in up to ten languages and other foreign editions, and distributed in many countries around the world.

For information on the services available, click on the following sections: seminars, clients, testimonials, books, and consulting. Also, refer to associated websites and related services.

Mr. Gray is frequently interviewed as an authority by the TV, radio and print media, including the National Post, Globe and Mail, Profit magazine, CBC, Global, and CTV. Almost 2,000 media interviews have been given over a period of 25 years. A list of the publications that he has contributed educational content to in the past, and books that he has authored or co-authored, are as follows:

Regular Columnist/Contributing Editor/Periodical Contributor

Western Canadian Resorts, Vacation Homes and Investment Properties
The Cottager magazine
Calgary Condo Life
Edmonton Condo Life
Toronto Star
Advisor magazine
Cottage magazine
Canadian Business Franchise
Small Business Canada
Profit magazine
Computer Paper
Canadian Computer Wholesaler
Opportunities Canada
Forever Young
Canada News
Globe and Mail
Maclean's
Good Times
Nationally Syndicated Columnist for Southam Press – "Streetsmarts" weekly real estate column
Contributing Editor to www.msn.ca Money site
Contributing Editor to Microsoft Small Business site
Contributing Editor to Microsoft Money Canadian Deluxe Edition CD-Rom
Contributor to Quicken CD-Roms on business/finance issues
ENGLISH LANGUAGE BOOKS (25 CANADA/US EDITIONS) BOOKS BY DOUGLAS GRAY, B.A., LL.B.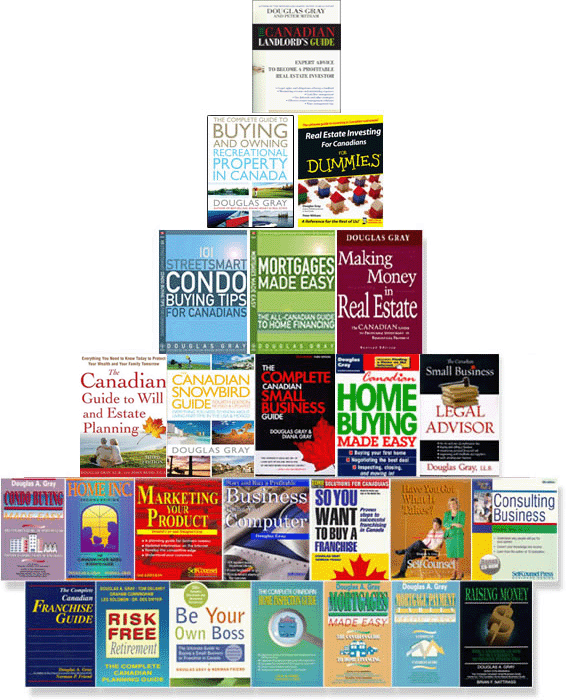 FOREIGN OR OTHER LANGUAGE EDITION (19) BOOKS BY DOUGLAS GRAY, B.A., LL.B.